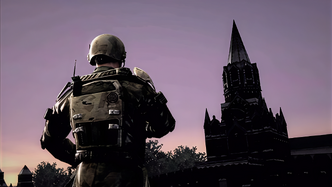 Ghost Recon is a United States Army special operations unit. The H.A.W.X. squadron rescued Scott Mitchell and his team operating in Mexico in 2014. David Crenshaw later worked with the team in Brazil, and again during the Artemis Global Security crisis.
In the near future, the Ghost Recon team rescued David Crenshaw in Africa and took him aboard USS Marshall where he was treated for his wounds. During the NATO counter-attack against Russian-held Norway, the Ghost Recon team landed on Norway under protection of Colin Munro of the Royal Navy. Soon after, they worked with the H.A.W.X. squadron again to unsuccessfully capture Aleksandr Treskayev in the Kremlin.
At one point, a team searching for a nuclear weapon in Russia was covered by HAWX2. They successfully completed their mission.
References
Edit
External links
Edit
Ad blocker interference detected!
Wikia is a free-to-use site that makes money from advertising. We have a modified experience for viewers using ad blockers

Wikia is not accessible if you've made further modifications. Remove the custom ad blocker rule(s) and the page will load as expected.