H.A.W.X. squadron
Active
Since after World War II as HAW Program
Deactivated between
2014-2021
Country
United States
Branch
United States Air Force
Engagements
United States resistance against Artemis
Conflict with DDI
War against Morgunov
Members


Aircraft
F/A-18E Super Hornet,
F-22 Raptor,
F-35B Lightning II,
(Varies per player's preference)
The H.A.W.X. squadron, also known as the H.A.W.X. Program and H.A.W.X. Project, (High Altitude Warfare Xperimental Squadron) was a special elite squadron within the U.S. Air Force, led by Colonel David Crenshaw. Its cover was the 24th TES.
H.A.W.X. squadron
Edit
The H.A.W.X. squadron was formed at some point prior to 2006 by the US Air Force and Captain David Crenshaw was transferred into it. In 2014, he and his wingman Casper and Talon were patrolling the US-Mexican border and protected a Ghost Recon team.[1]
The squadron was soon shut down by the Air Force itself. After four months, Crenshaw was invited by Artemis Global Security, a worldwide private military corporation. Artemis formed a squadron known as Reaper Flight and retained Crenshaw's position as the squad leader after his first assignment with Artemis. They continued to fly with Artemis until 2021 until the US intervened in Artemis' operations in Brazil. Crenshaw and his wingmen defected back to the US military after Artemis assigned a contract with Las Trinidad. The Air Force reactivated the squadron and Crenshaw helped defuse the crisis. He later conducted a black operation to take out the remaining Artemis leadership.[1]
At one point prior to October 2021, the reactivated H.A.W.X. team defended Mexican oil rigs from the last of the PMCs. Crenshaw shot down his friend Jerry Slaten, who had been invited back but declined.[2]
Additionally, H.A.W.X. flight provided cover to a Ghost Recon team operating in Russia.[3]
At one point the pilot HAWX2 flew off CVN-77 to defend a Ghost Recon team as they recovered a nuclear weapon. The pilot shot down a heavy bomber and sunk a battleship.[4]
Crenshaw created the H.A.W.X. Program as an international response team which could go anywhere within 24-hours. After Crenshaw was deployed to the Middle East, Colonel Alexander Bowman was placed in charge and brought the response time down to 8-hours. The squadron also adopted the use of UAVs like the Skybug. They became involved in a conflict with Colonel Rainmaker and the PMC DDI. They kept it a black operation until Rainmaker unleashed his Firestorm satellite. They called in the US Marines and the Air Force, but conducted their own operation to take out Rainmaker.[5]
In the near future, the squadron under the command of Colonel Avery was stationed at Prince Faisal Airbase, where they were decimated by an insurgent cruise missile attack. Major Alex Hunter and the remaining members then hunt down the insurgents and stop rogue General Vasily Morgunov.[6]
HAWX Program
Edit
The HAWX Program was stationed at Nellis Air Force Base and had its roots in post-World War II operations like Paperclip and Project FALCO. The High Altitude Warfare program was for highly classified technology. It was located at Wright-Patterson Air Force Base, and then Langley Field, before moving to Nellis. The program was officially known as the 24th Testing and Evaluation Squadron, which has three missions. These are testing prototypes, flying high-altitude recon/combat operations, and trains US and allied pilots.
The program was underfunded, but in the 21st century the program restarted and became known as High Altitude Warfare, Experimental. The program produced aircraft such as the Shakuru and the Raven, the latter one was held in a hangar which did not officially exist. Dr. Elisa Meyers had worked there for 18 months designing aircraft like the Shakuru. After Firehawk, LLC was granted control of the program from the US military, Troy Loensch and Aron Arnold were assigned as test pilots. After Loensch was caught spying on Raymond Harris, he staged an accident in the Shakuru and Loensch was presumed dead. Harris later took the Raven to drop a nuclear weapon on President Albert Fachearon, who refused to recognize the PMC's authority following the passage of the Executive Branch Management Bill. It was rammed by Loensch's F-16 and destroyed. Days later, Arnold was placed as the head of the program and recruited Jenna Munrough into it.[7]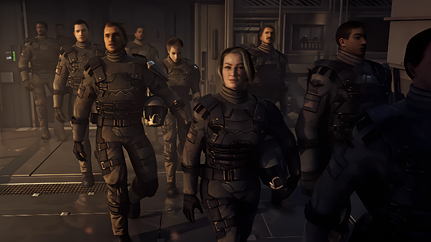 HAWX Program c. 2012
Edit
2014-2021
Edit
US operations, near future
Edit
Middle East operations, near future
Edit
References
Edit
References in other Tom Clancy series
Edit
Ad blocker interference detected!
Wikia is a free-to-use site that makes money from advertising. We have a modified experience for viewers using ad blockers

Wikia is not accessible if you've made further modifications. Remove the custom ad blocker rule(s) and the page will load as expected.