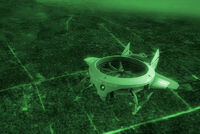 The MQ-26B Night Owl is a reconnaissance drone. The drone was 18 feet long, had a 20 foot wingspan, and had three 10 foot rotors. It was controlled by one operator, and was equipped with cameras and had the ability to monitor radio transmissions. The H.A.W.X. squadron used the Night Owl to locate Colonel David Crenshaw. A week later, Alex Hunter used this drone to mark weapons shipments with IR strobes in an insurgent-controlled city, Africa before he destroyed the targets.
References
Edit
Ad blocker interference detected!
Wikia is a free-to-use site that makes money from advertising. We have a modified experience for viewers using ad blockers

Wikia is not accessible if you've made further modifications. Remove the custom ad blocker rule(s) and the page will load as expected.